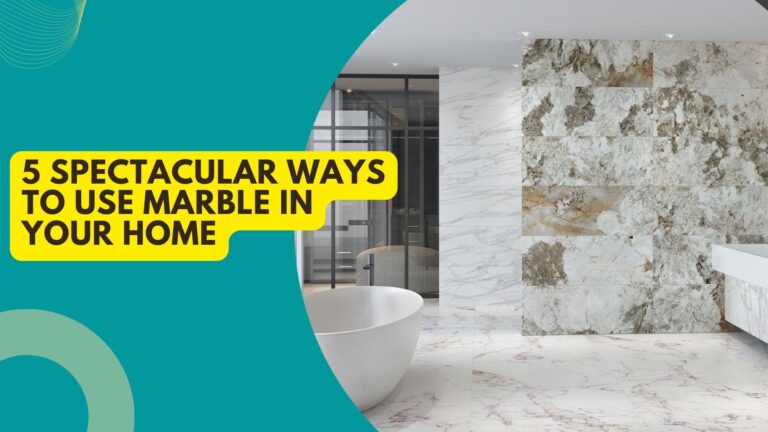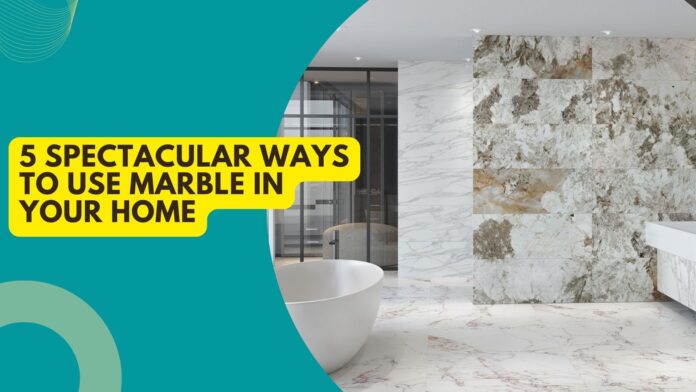 Marble is one of the most luxurious and stones that has been used to construct some of the greatest buildings, sculptures, and statues. It's also used in some of the most expensive homes and mansions around the globe. This is because; marble allows you to create the perfect ambiance according to your personal preferences. The fanciful look of marble makes it a popular choice among homeowners who have an affinity towards fine furniture and decorative artefacts. 
Marble is also one of the most versatile stones used in home interiors and can be used in pretty much any space to uplift its appeal. 
Here's How to Use Marble to Give Your Home an Elegant Look
1. Marble Kitchen Countertops 
 Marble countertops are a luxurious addition to any kitchen. Here are four reasons why marble makes an excellent material for kitchen countertops. First, marble is a solid material. It is unlikely to crack or chip with normal use, making it a durable choice for a busy kitchen. 
Second, marble is easy to clean and maintain. A simple wipe with a damp cloth is usually all that is needed to keep your countertop looking like new. Third, marble is heat resistant, so you can place hot pots and pans directly on the surface without worrying about damage. 
Finally, marble adds a touch of elegance and sophistication to any kitchen décor. Whether you choose classic white or a more colourful variety, marble countertops are sure to make a statement in your home.
2. Marble Furniture 
 Whether you're looking to add a touch of luxury to your home or simply want to make a statement, marble furniture is the way to go. You can use the furniture in any room of your house, and it will last for all the years to come. Different designs and styles are available to create a unique look with your marble furniture.
Here are some of the most spectacular ways to incorporate marble as furniture into your home décor:
1. Create a focal point in your living room with a marble coffee table.
2. Make a grand entrance with a marble console table in your foyer.
3. Add sophistication to your dining room with a marble dining table.
4. Get creative in the kitchen with marble countertops or backsplashes.
5. Bring the outdoors in with a marble-topped patio table.
6. Give your bedroom an air of luxury with a marble-topped nightstand.
3. As Carpet Flooring 
If you are looking for an elegant way to decorate your home, then you should consider using marble tiles as carpet flooring. Marble is one of the most popular materials used to create indoor and outdoor flooring because it has many benefits over other materials, such as wood and tile.
Marble stone has been used throughout history for centuries because it has strong durability and looks great when used in various designs. It is also resistant to damage caused by moisture, so it can be used outdoors without worrying about water damage or rot occurring due to high humidity levels inside the home or building. Thanks to its unique veining, each piece of marble is completely unique, adding to its overall appeal and making your carpet flooring look even better.
4. A Marble Interior Wall 
If you're looking to add a touch of luxury to your home, consider using marble for your interior walls. Here are a few things to keep in mind when incorporating marble into your wall design:
Choose a colour that complements the rest of your décor. White and light-coloured marbles are classic choices that will brighten up any space.
Consider the veining pattern when selecting your marble for your walls. Some patterns are more dramatic than others, so it's important to choose one that fits with the overall look you're going for.

Be sure to have your walls professionally sealed before installation.
5. Marble Temples
Marble Temples are a blend of traditional architecture and modern interior designs. These temples have been designed to give them a royal look, which makes them perfect for those who want their pooja room to look extraordinary. 
The walls of these temples are decorated with beautiful paintings and sculptures depicting scenes from Hindu mythology. The most common shapes seen in these temples are lotus flowers, peacocks, elephants, lions and horses. Some temples also feature beautiful paintings of Ganesha or Shiva because they represent good luck and prosperity.
It is believed that using marble creates positive vibrations in the environment, which makes it ideal for worship rooms. If you want to build a pooja room in your house, marble can be used for creating beautiful designs on walls and flooring.
Final Thoughts
Marble is a showstopper as one of the most exquisite and sought-after stones on the planet, marble are a natural choice for artisan decor projects. Whether you are going for a natural look, or are trying to achieve a more modern feel, there are endless ways to utilize marble in your home decor. We hope this blog post has given you some inspiration on how to make beautiful and unique homes with marble.