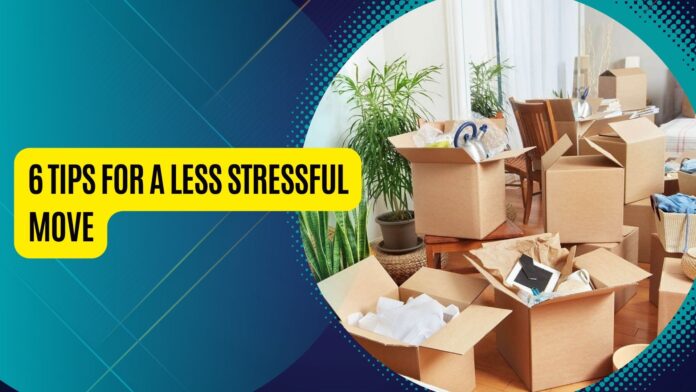 Moving is one of the most stressful activities a modern human can do. And while there's no way you can remove all the stress from it, there are a few tips that can make moving a lot easier. Read on to learn more about how to de-stress your move! 
1. Hire The Right Movers
Hiring professional movers is the right idea. Movers have the equipment and skills to pack and move bulky items like TVs and fragile items like china and glassware. Hiring movers also takes a lot of tasks off your plate.
But you need to make sure you're hiring quality movers. At Atlanta Moving Solutions of Kennesaw, for instance, they background check every employee and won't work with part-time employees, who tend to be less reliable.
Ask the right questions to make sure you're hiring the best help.
2. Keep an Eye on Important Documents
It's easy to misplace birth certificates, social security cards, and even important documents about your home during a move. But you shouldn't risk leaving these important documents behind.
If you have a corner or room in your house that's being packed last, have your documents stay there. And if you don't already, get a fireproof safe or bag that can fit them. Keep an itemized list of what's inside, too.
A little caution in looking out for your documents now will save you a lot of headaches down the road.
3. Keep Up with Stress-Relieving Activities
The process of moving is a big demand on your time, but try to keep an outlet for yourself if you can. Giving your brain and body some downtime from moving is good in the long run.
Keep up an exercise routine, even if it's a bit scaled back; it'll help you beat stress. If you need a treadmill, knitting bag, or other hobby item, those can always be packed last.
If taking care of yourself seems counterintuitive, think of how much more productive and organized you'll be if you're feeling good.
4. Ask for Help When You Need It
Yes, asking your friends for help during a move may seem like an imposition. But most people are happy to help, provided they're not stuck moving your couch up to the third floor!
Friends and family can help with the tedious, but straightforward, work of wrapping and packing dishes. Or they can help drop off secondhand clothes and goods for donation. 
Don't be afraid to ask for help if you need it!
5. Schedule Time for Seeing People
If you're moving farther away, you'll likely want to see all your friends and family in the area before you move. That in itself can easily be overwhelming!
Make time for seeing old friends, just like you would any other moving chore. It may seem silly, but it's important to give you and your family a sense of closure before you finally move away.
Plus, you can always enlist people to help you move (see above tip)!
6. Get to Know the Community Before You Move
This may not be possible for every move, but if you have the time, get to know your new community before you've left your old one. This will help give you and your family a sense of continuity.
If your new town is nearby, it's not hard to check out a local community festival or a trendy new restaurant. If your new home's further away, getting to know the community is harder. However, you can always watch live streaming events and even get to know your new neighbors through social media.
Final Thoughts
Moving won't ever be easy or relaxing, but with a few tips, you can make it a lot less stressful!