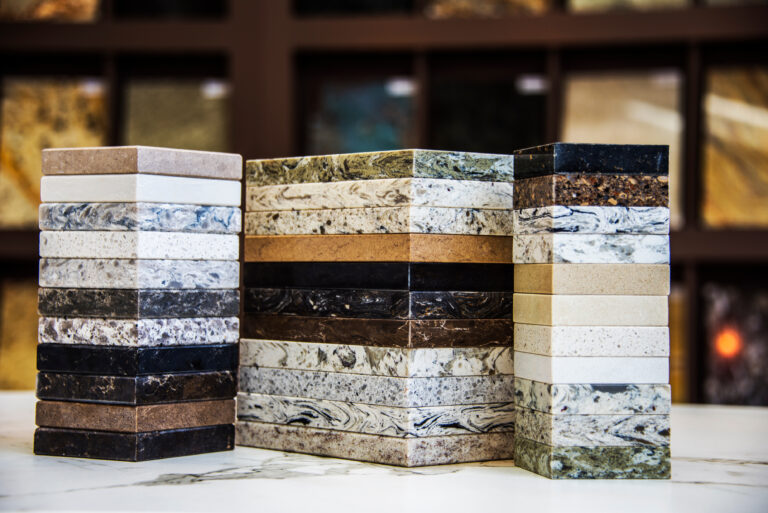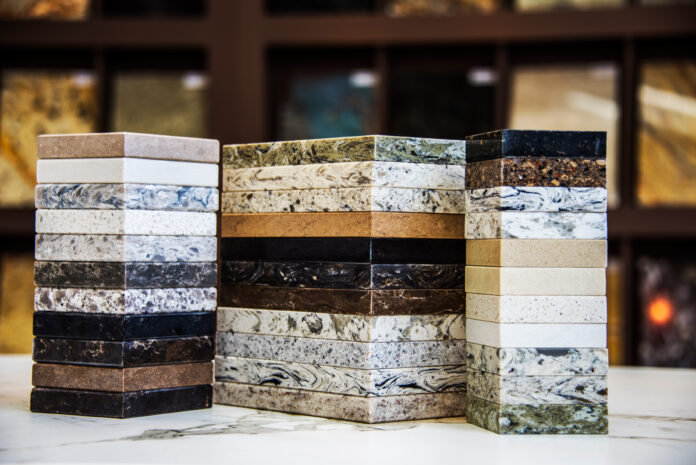 If you are planning a kitchen renovation or moving home, choosing a new kitchen countertop is a huge decision to make. The countertop you choose will affect the practicality of your kitchen and its aesthetics. A well-chosen countertop will make your kitchen more useful and easier to maintain. Kitchen countertops are available in a wide range of diverse materials; from high-end natural stone to stainless steel and recycled glass. All of the different materials have pros and cons. The countertop best suited to you depends upon your style preference, your requirements, and of course, your budget!
Natural Stone Countertops
Natural stone countertops are extremely popular and highly sought after. They have been the top choice for homeowners for many decades!
Granite 
Granite is a very popular material for kitchen countertops. It is extremely durable and long-lasting. As well as being very strong, and heatproof, it will also add to the value of your house. Granite is porous and so needs regular sealing to prevent it from staining. It is a high-end purchase and if you have the budget it will bring luxury and a stunning aesthetic to your new kitchen.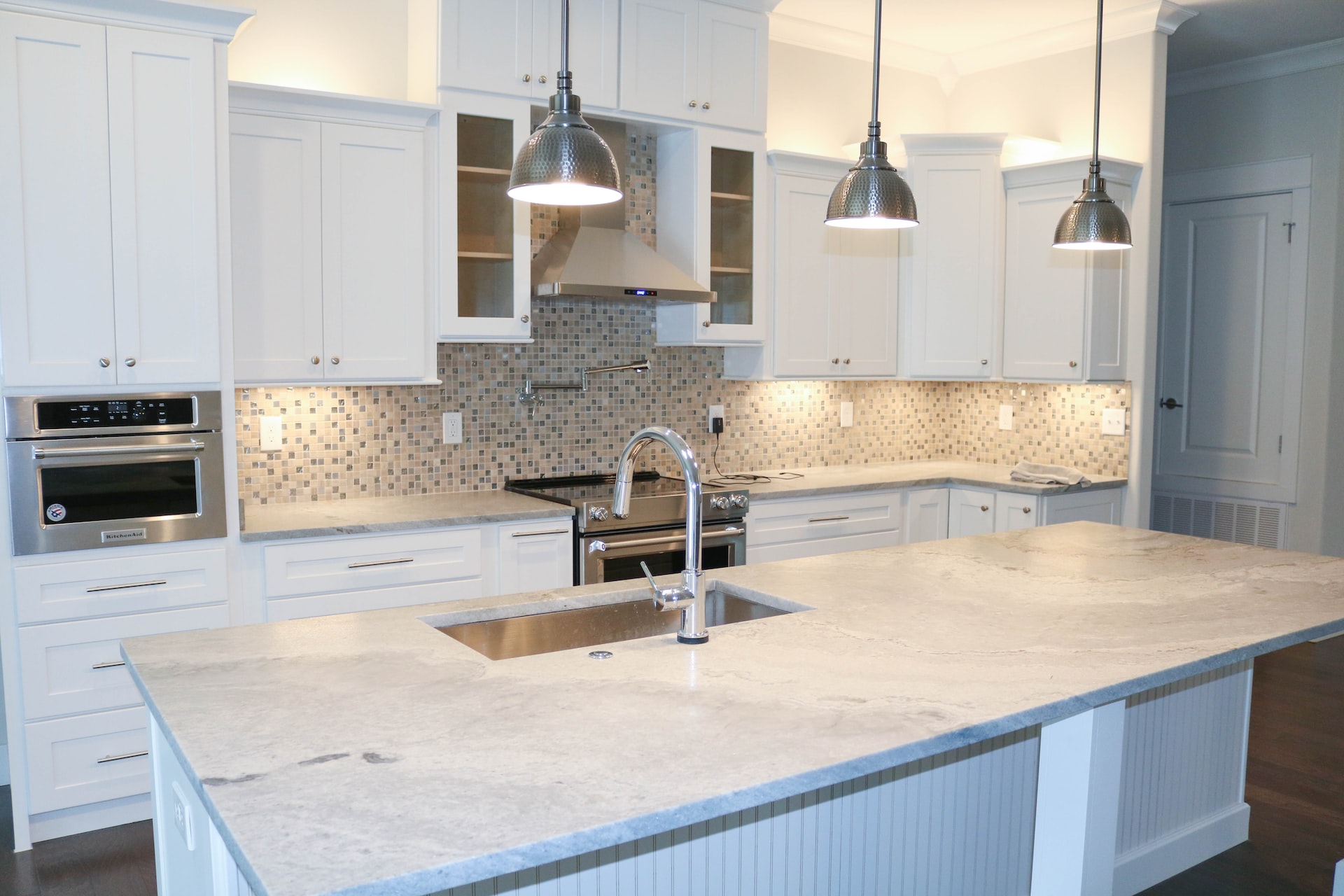 Marble
Marble is another high-end natural stone purchase that you can find in the kitchen. No two marble sheets are the same, and every marble countertop is unique. It is heatproof and waterproof and will add to the value of your property.  Marble is a porous material and stains easily as well as scratches. A sealer can be applied to reduce this.
Soapstone 
Soapstone also falls into the high-end category of countertops. Soapstone doesn't come in many color varieties. Usually, soapstone is some shade of rich gray.  Soapstone is heat resistant, stain resistant, durable, and less prone to cracking than granite or marble. It is non-porous so it doesn't need sealing. Soapstone has recently become popular as an alternative to granite.
Onyx
Onyx is a unique and stunning choice for a countertop. Onyx is found in a variety of colors and patterns, it is long-lasting but can be soft and brittle. However, it is not a practical choice. The stone can be found in many beautiful colors and patterns. Onyx requires some maintenance to keep it at its best, it needs to be regularly cleaned and sealed to keep its stunning appearance.
Limestone
Limestone is one of the most versatile stones, as it is always available in various sizes, textures, and soft colors, giving a luxurious look and adding warmth to your kitchen. It is not heatproof and due to its porous nature, it stains and scratches easily. It is also sensitive to acidic substances.
Quartzite
Quartzite can have a wide range of colors; white, gray, black, pink, red, and more. In hardness and resistance, you may compare quartzite to granite countertops, and for aesthetics to marble. It is available in various finishes, including matt and polished. Quartzite is heat-proof, resistant to stains, and easy to clean.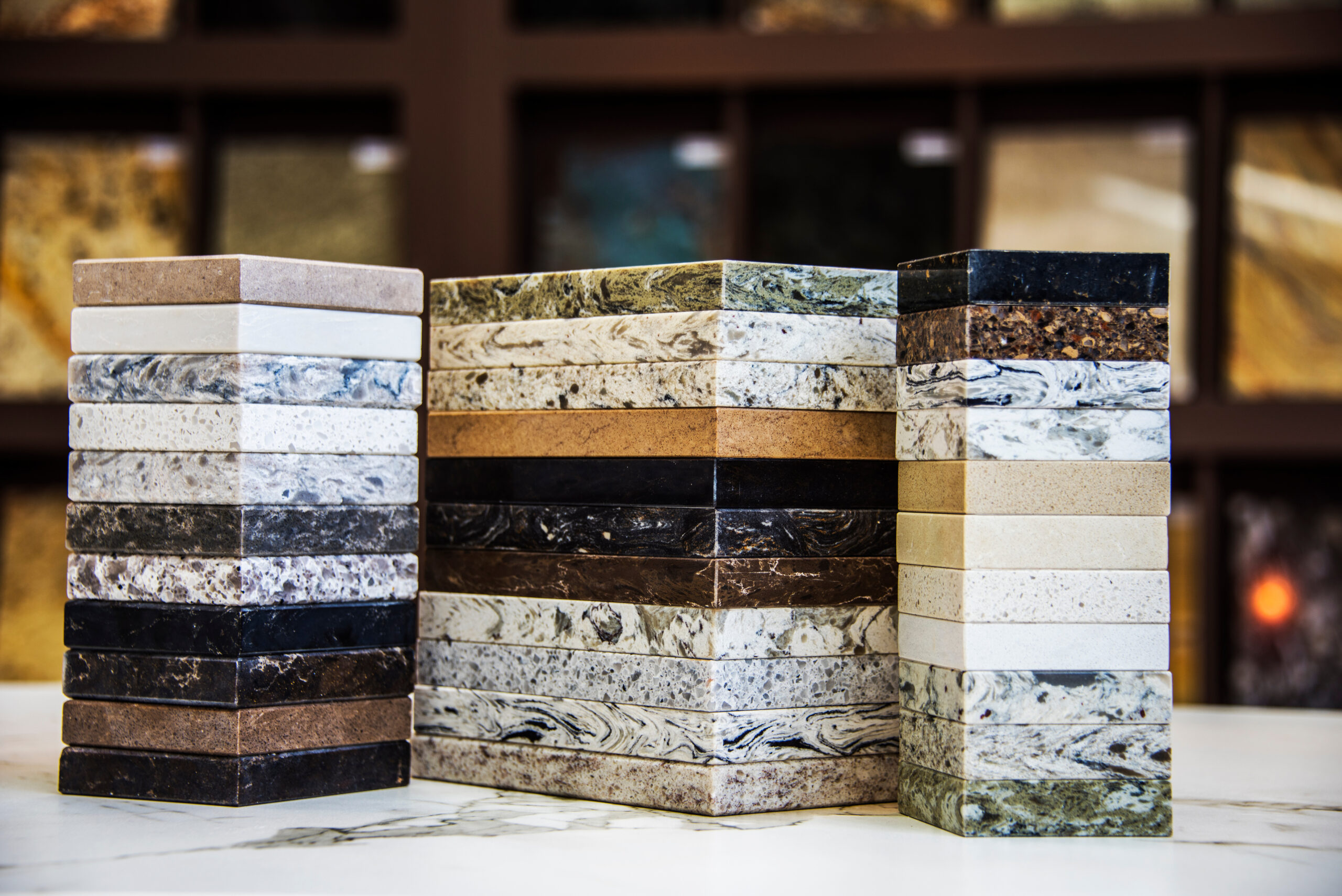 Engineered Stone Countertops
Quartz
Quartz is in actual fact a natural crystal, but quartz countertops have been made with quartz crystals, pigment, and resins, so they are known as engineered stones. Quartz is available in a range of colors and has a nonporous surface that doesn't scratch or stain. It is extremely hard and strong. It requires no sealing and no maintenance. It is an expensive buy and is often considered an alternative to granite countertops.
Non-stone Countertops
Wood (Butcher Block)
Wood is a popular countertop for the mid-range budget; it gives a lovely traditional feel, but also fits with a contemporary kitchen. There is a range of colors and finishes. When properly maintained, wooden countertops are durable and long-lasting, they can be sanded and restrained if they become damaged. You can't cut food on them as knives damage the wood. In addition, they need to be regularly oiled and sealed.
Laminate
Laminate countertops are for people that are on a tight budget. They consist of a thin layer of plastic laminate material bonded to a core of MDF (medium-density fiberboard). There are hundreds of colors and styles available; some laminate mimics the look of wood, granite, and even marble. Laminate countertops are easy to install. Over time they can peel, chip, and scorch with use.
Concrete
Concrete is one of the most unusual countertop options. It is heat resistant and durable, giving an unusual look. It is also highly porous meaning that it stains easily and can suffer water damage.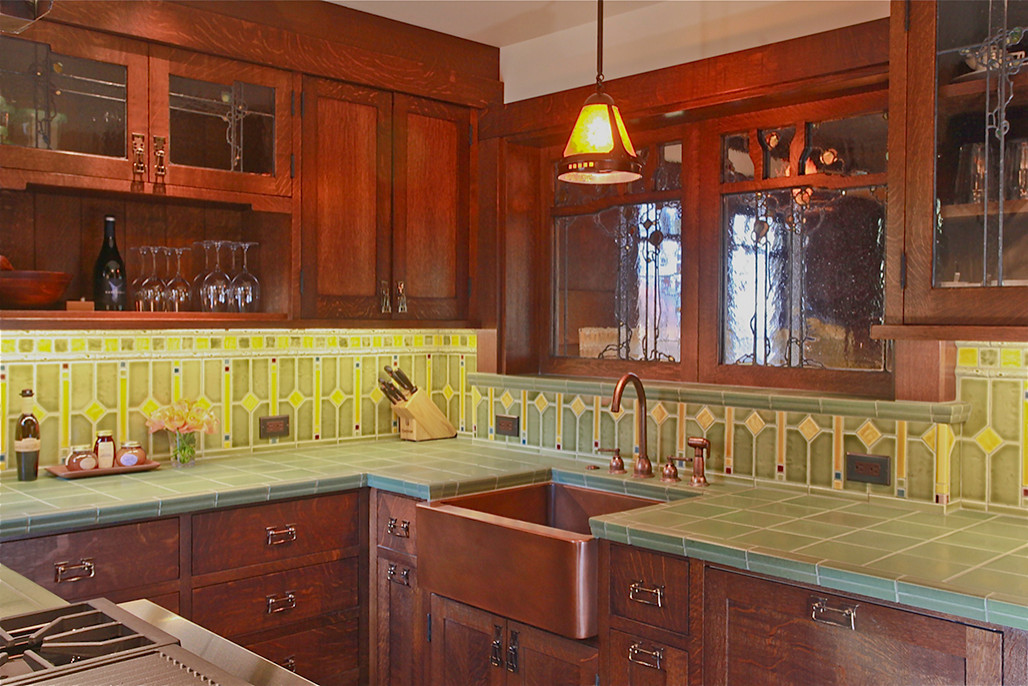 Ceramic Tile
Ceramic tile countertops are one of the cheapest options you can find. Using ceramic tiles means that there are hundreds of possible colors, styles, and patterns. Some larger tiles have now been produced to reduce the number of grout lines. Ceramic tile is waterproof, heatproof, and stain-proof. Easy to clean and very economic. They can be scratched though and cracked if put under enough force.