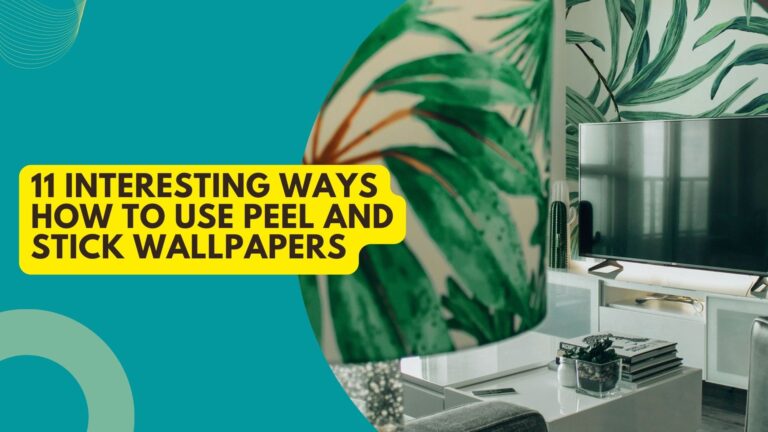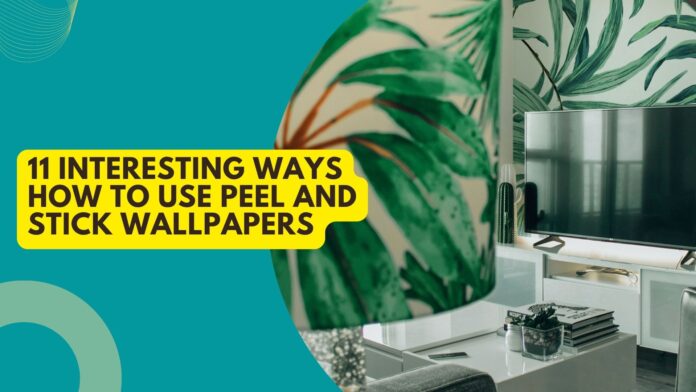 Peel-and-stick wallpaper is great for decoration. It looks amazing on walls, but it can also be used on other surfaces as well. And that's where the fun begins. In this article, we have compiled 11 extraordinary ways to use peel-and-stick wallpaper beyond room walls. Keep reading to learn more!
1.The drawers
Drawers are one of the places that are reserved just for our own eyes. Very rarely, a guest peeks into a drawer or other cupboard (maybe except in the kitchen). But nevertheless, even if it is just for your viewing pleasure, lining drawers with a peel-and-stick wallpaper can give you several benefits! Here they are:
It can hide imperfections in the drawers, for example, if there are some scratches or other signs of usage.

It will make the drawer look chic and beautiful, and that definitely inspires you to keep the drawers organized and clean.

If the lining gets dirty, you can easily replace it with a new one! That way your drawers will always look fresh and put together.
2.The back of a closet
Similar to lining the bottom of drawers, you can line the back of a closet with peel-and-stick wallpaper. It's a great way to give a fast and inexpensive makeover to an old closet, plus keep the back of the closet clean and fresh.
This is also a place that not a lot of your guests will see, but it is nice sometimes to do something just for yourself. It will be your little home secret that can make you happy every time you open a closet.
3.The back of cupboards and shelves
Now we are slowly moving to areas that might be noticed by others who visit your home, not just the inhabitants of the home. Just as you can line the back of a closet with removable wallpaper, you can do the same with cupboards and shelves. It can be a dynamic and fun accent to your interior design.
And if you are a little bit shy about using bold prints on the walls at the moment, you can start by adding more color and print to just the backs of cupboards or shelves. It is still noticeable, but not overwhelming.
4.Covering the backsplash of the stairs
This idea will make your stairs look fun and unique. It is also something that not a lot of people do, so it looks even more creative and special. What kind of peel-and-stick wallpaper pattern you use depends on the design of your home. You can go for something colorful and bold or use a subtle, basic design. However, it will look more impactful if the design contrasts with the rest of the stairs. That way, it will be noticed every time someone uses your staircase.
5.Under the stairs
Speaking of stairs, if your home has that awkward, strange space under the stairs, it is ideal for peel-and-stick wallpaper. You can experiment with prints and design here since it is such a small space that often goes unnoticed. It is always exciting to highlight an extraordinary place in the house and make it the main attraction.
6.Ceiling
Have you seen the wallpaper on the ceiling? How did it look? Chances are, you haven't yet seen a wallpapered ceiling in real life, but that doesn't mean it is a bad idea. It just means that it is a unique idea!
It is a bold choice, and not all will make it. But if you are someone who loves to experiment and surprise their guests, wallpaper on the ceiling definitely will. To make the best impression, definitely choose a bold print. If you are wallpapering the ceiling, you definitely want it to be noticed!
You can use it as a contrast to single-color walls or go all in and use the same wallpaper for the whole room. The choice is yours!
7.Doors
Doors are another surface that is just begging to be covered with peel-and-stick wallpaper. Wallpaper can be used to give doors a quick makeover that will freshen up the whole room. It will conceal wear and tear such as scrapes and even small indentations. You can even cover the doors on both sides and use a different wallpaper on each. That way, you can match the wallpaper to the decor in both rooms where the door goes.
8.Desk
Are you a little bit bored with your workplace? Spice things up by using peel-and-stick wallpaper on the surface of the desk! If you are doing a remodel on the whole room, you can match the wallpaper with the walls, but if not, it can be anything else that goes well with the interior design.
To make it last longer, a good idea would be to use a glass or acrylic sheet to put on the table's surface. But if you don't have that available, you can still rock a wallpapered desk; it might just get dirtier quicker. But then it can be viewed as an opportunity to change things up more often and try out new print designs for your desk.
9.Fridge
Sometimes you just want your fridge not to be white or silver. And there is an easy way to fix that! Use peel-and-stick wallpaper to cover the fridge. You can use it on all sides, just the front, or just one side. It depends on your preference and style.
A wallpapered fridge can also make the kitchen cozier since it will cover the usual kitchen appliances' colors. You can also use the same wallpaper in different places in the kitchen to make it look coherent and properly styled.
10.Washing machine
The fridge is not the only home appliance that can be wallpapered. Yes, washing machines are useful, and we cannot live without them, but the design is not so cozy, don't you think? So to make it homier and suitable for any room the washing machine is placed in, you can cover it with wallpaper of your choice.
11.Crafts with kids
Peel-and-stick wallpaper is the perfect material for crafts with kids. If you have recently remodeled your home and have some scraps of the wallpaper lying around, don't throw them out just yet! Collect them and use them next time you are creating something with your kids.
It can be used as a greeting card material or as doll house decorations. It can also be the exterior of a jewelry box or even its interior. And to be perfectly honest, your kids can definitely come up with even more creative ways to use the scraps of peel-and-stick wallpaper.
In conclusion
We hope you got some inspiration on how to use peel-and-stick wallpaper on the walls from this article. If you are looking for a place to purchase high-quality, nice wallpaper, make sure you check out Deccoprint.com! They have a huge variety of prints suitable for adults and kids of different tastes.