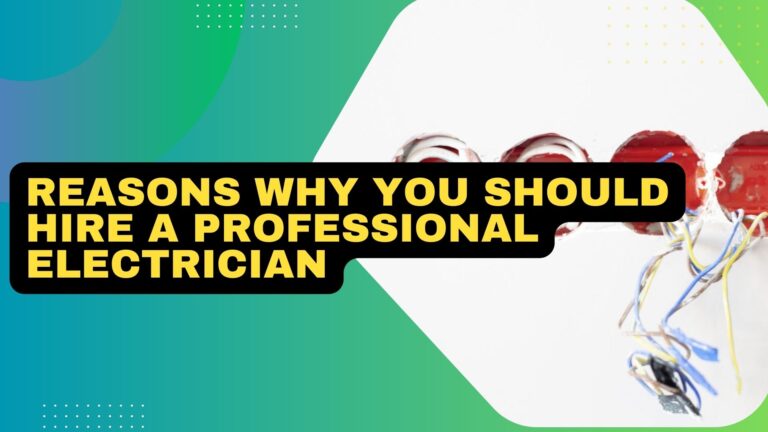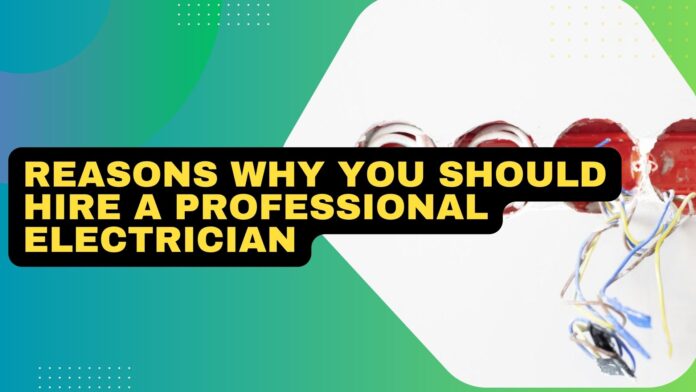 Electrical maintenance and/or installation are essential components of any home improvement project. There will always be some electrical work involved, whether it's a minor repair or a major home remodel. When it comes to electrical work, safety is the most important factor to consider. While some electrical work is done by homeowners themselves, only licensed electricians can guarantee the safety and quality of the work. So, if you're about to embark on a home improvement project or simply need some electrical repairs, read on to find out why hiring a professional electrician is the way to go.
Why hire a professional electrician?
Professional Electricians have the tools and experience you don't have
As easy as electrical work may sometimes seem, it is recommended against doing it yourself. There are a few reasons for this. First, professional electricians have the entire set of necessary tools and equipment as they have to use them every day. Moreover, they are trained to use them without endangering themselves and damaging the property. 
Secondly, licensed electricians are experienced professionals that know all ins and outs of electrical work. Depending on the licensing level, they can handle jobs of various complexities and volumes. 
Thirdly, professional electricians know all the local codes and regulations and ensure they comply with them. Every province or state has its own set of electrical codes that electricians must follow when performing electrical work. Complying with these codes ensures the safety of the property and people. If the codes are not followed or if the electrical work was DYIed or performed by someone without the required license, the homeowner could be held liable for any injuries or damages that may occur as a result of the faulty electrical work.
Installation of new outlets
Installing new outlets is likely when a house is undergoing a major renovation or if the owner wants to add more appliances to the house. It's a type of work that can be handled only by skilled and licensed electricians. 
In the event that the home is undergoing a major remodel such as changing the entire kitchen layout or adding a kitchen island, it is more likely that electrical appliances will have to be moved from the place they used to be plugged in. In that case, additional outlets may have to be installed. If your home is undergoing a major remodel, remember that there are certain regulations pertaining to the placement of the outlets, which only professional electricians are aware of.  
Installation of electrical appliances
New electrical appliances are somewhat of an investment, so homeowners need to handle them with care. It is important to ensure that the electrical system is capable of handling the additional electrical load that new appliances will add. If it is not, then the homeowner is risking the viability of the appliance and the safety of the home and residents. 
Installing new appliances may require upgrading the electrical panel, which will be discussed further in this blog. 
Heaters have also become widely popular among electrical appliances installed in homes, especially in regions where winters are long and cold. Thanks to a built-in temperature sensor, some electric heaters can have a target temperature preset, thus providing homeowners peace of mind that the appliance will not overheat and turn into a hazard for the residents of the house.
Electrical Panel Upgrades
As mentioned above, adding more appliances may require adding more power outlets. However, with more outlets comes the risk of overloading the circuit breaker. In this case, electric panel upgrades are inevitable. Upgrading your electric panel allows you to add more appliances to your home without overloading the entire home's electrical system and putting your house at risk of a fire hazard. 
Another scenario when electric panel upgrades are necessary is when the home is old and electrical panels are of 20 years of age or older. The number of electrical devices we have been using in our homes has increased dramatically and older generation panels are not designed to support this demand. 
Electric panel upgrades are not a task for an average homeowner. Therefore, this type of electrical work should never be attempted by a non-professional. Licensed electricians are skilled enough to handle electric panel upgrades safely and efficiently. Moreover, if they ever have to come back to make any adjustments to the already performed electrical work, they will gladly do so and in most cases will not charge any additional fees. 
Electrical wiring upgrade
If you are renovating an older home, you need to consider upgrading electrical wiring throughout the entire house. The reason for that is no matter how gorgeous your new interior design is, if internal electrical wiring hidden behind the wall is faulty, the electrician may ultimately have to tear down a part of the wall to access that faulty wiring and fix it, meaning all your design efforts were for nothing. 
While exposed electrical wiring is easy to spot, locating faulty wires that are hidden behind the wall is not an easy task. This is where thermal imaging comes in handy. Thermal imaging is one of the most efficient ways to spot hidden electrical problems. This method allows electricians to reveal any electrical unbalances or other problems with the wiring or electrical system in general. Thermal imaging is an electrical inspection process that can be completed only by a professional electrician who has the necessary equipment and can read the results. Consider hiring an electrician to scan your home for electrical wiring issues. 
Conclusion!
Electrical work is one of those home improvement tasks that require special skills and equipment. And because safety is what electricians bear full responsibility for, they spend years learning the trade and acquiring the necessary experience before they become fully licensed to perform electrical work. So every time when you need to fix that exposed wire or replace a burnt-out lightbulb, remember that no one else can guarantee the safety and efficiency of the work done other than a licensed professional with years and years of expertise.