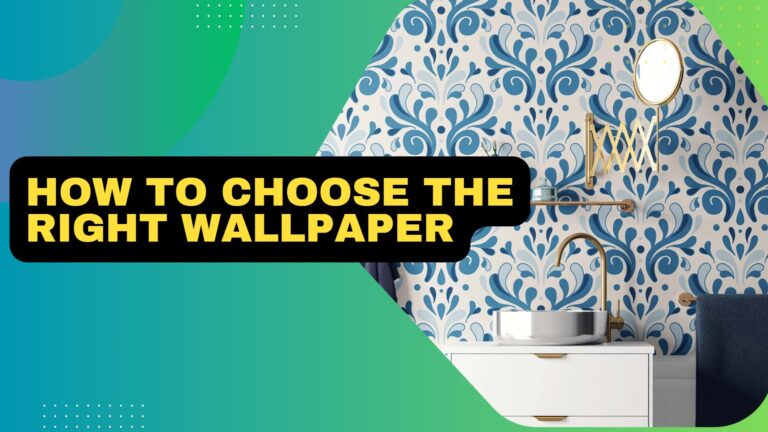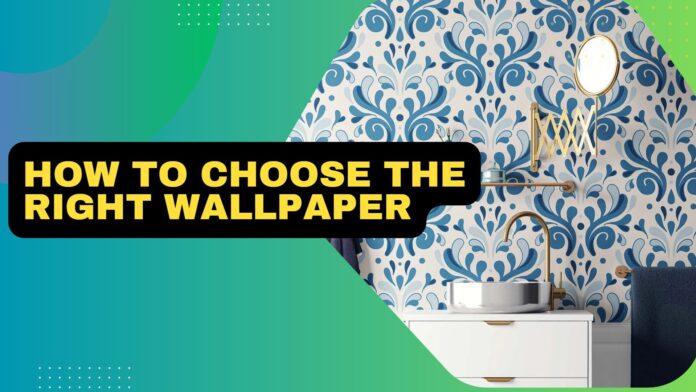 One of the quickest ways to make your home look and feel new is to change up the walls. Painting walls takes time and the willpower to live with the smell of paint for a while. Wallpaper is quick to put up and can completely transform the look and feel of a space, whether you want to aHow to Choose the Right Wallpaper, Add a pop of color, a subtle texture or a bold pattern.
You can still create your dream accent wall even if you rent
You read that correctly. If you're renting a place that looks slightly tired, what better way to add contemporary décor that livens up your wall space than wallpaper? Removable wallpaper, otherwise known as peel and stick wallpaper, is ideal option when you need to choose wallpaper in a rented apartment.
Advantages of Peel and Stick Wallpaper
Unlike regular plain wallpapers, removable wallpaper offers plenty of advantages to both renters and those who like to change up their spaces on a regular basis. Think about it, you can create a new accent wall evertime you decide you need a change,
Durable and easy to clean
Just because it's removable paper, doesn't mean it isn't resilient. Made from vinyl, removable wallpapers are a hardy option, as you can simply wipe them down with a damp rag when they get dirty. It's perfect for rooms that are high traffic areas or if you have kids.
Unlike regular wallpapers, you don't need to call in the professionals to install. All you need is a reliable stepladder, a good friend, and a great DIY attitude to wallpaper a whole wall or to wallpaper a whole room.
Wallpaper on the ceiling?
You can get as creative as like with vinyl wallpaper. Although a tricker project to DIY yourself, you can hire an installer and give the proverbial fifth wall a textured look to make a room feel cozy. Wallpaper is also great as the perfect shelf liners that don't move about.
Picking the Perfect Wallpaper for Your Walls
Choosing the a wallpaper style is a part of the fun with options like textured wallpaper, plain wallpaper, picking a perfect country motif pattern, heavily patterned paper or even glitter embedded wallpaper to choose from. But with so many options, it can be overwhelming to pick the right wallpaper for your space. Read on for some expert tips on how to choose the right wallpaper for your home.
Consider the purpose of the room:
The first thing to consider when choosing wallpaper is the purpose of the room. If it's a bedroom, you may want something calm and relaxing, while a home office may benefit from something more energizing and stimulating. A dining room may require a more formal and elegant pattern, while a playroom may be suited to something fun and whimsical.
Think about the size of the room:
Another important factor to consider is the size of the room. A smaller room may benefit from a lighter color or a smaller pattern to avoid overwhelming the space, while a larger room can handle bolder patterns or darker colors. Additionally, vertical stripes can make a room appear taller, while horizontal stripes can make a room appear wider.
Look at the existing decor:
When choosing wallpaper, it's important to consider the existing decor in the room. If you have a lot of bold colors or bold patterns in your furniture and accessories, you may want to opt for a more subtle wallpaper. On the other hand, if your existing decor is more neutral, you can use wallpaper to add a pop of color or pattern.
Consider the size and style of the room:
The style of the room can also influence your wallpaper choice. For example, if you have a traditional or classic style, you may want to opt for a baroque floral damask pattern, while a modern or contemporary room may be better suited to a geometric or abstract pattern. Large scale designs look better on walls wth a larger square footage while a small room may look nicer with a smaller pattern.
Test samples in the room:
Once you have narrowed down your options, it's important to test out samples in the room. Hang a few different wallpaper samples on the wall and observe how they look in different lighting conditions throughout the day. This will help you get a better sense of how the wallpaper will look in your space.
A soft textured wallpaper in a calm color palette are perfect for a bedroom or a home office while bright colors will suit a nursery. If you want to create a focal point, forget picking a wallpaper the same color as the rest of your walls, instead make statement by creating a feature wall that draws the eye. Check out this ink swirl wallpaper for some inspiration.
Choosing the right wallpaper for your home can seem overwhelming, but by considering the purpose of the room, the size of the space, the existing decor, the style of the room, and testing out samples, you can find the perfect wallpaper to transform your space. Read this article on how to choose the right wallpaper to go more in-depth into topics like the kind of effects small scale patterns create, how to use ambient window light or a room's natural light to enhance the effects of your wallpaper.
So whether you want to wallpaper your living room, include an optical illusion as a part of your room design, or you simply want to add some period style elegance with textured wallpaper to create a comfortable space to relax in, vinyl wallpaper is a great choice for both renters and homeowers.
Otto Studio helps renters and homeowners find joy in their spaces with unique wallpaper patterns, prints, and designs. Check out the online store now to create a space that is as one of a kind as you are.