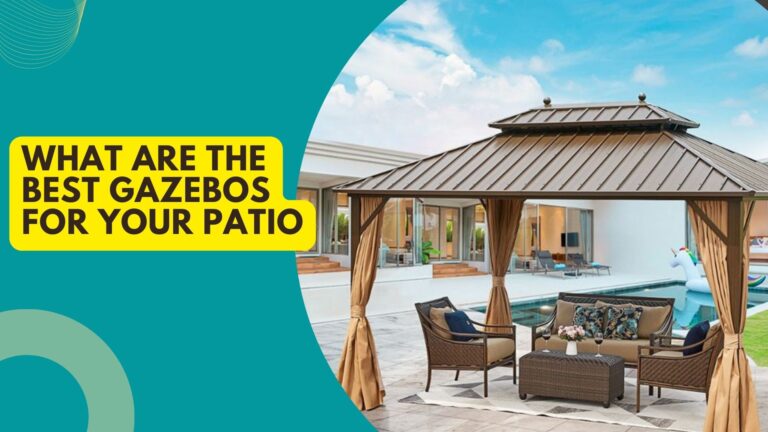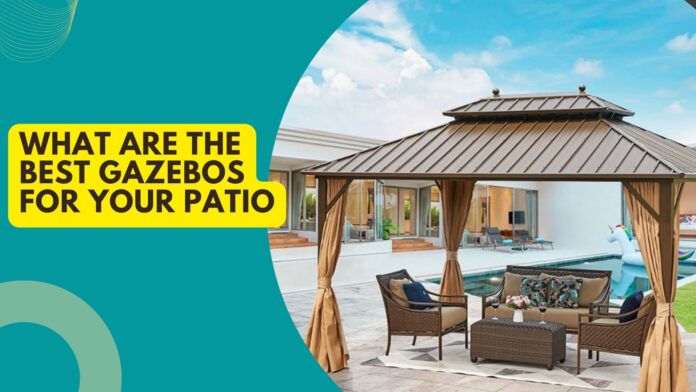 A gazebo is a luxurious addition to a backyard, garden or patio. When enjoying the great outdoors, these whimsical outdoor hideaways provide shelter from the elements. Depending on the design, the gazebo can provide shade from the sun, rain, wind, and even pesky insects, resulting in a comfortable outdoor living space.
The best pergola is sturdy and long-lasting, and it looks great on your patio or garden. This elegant gazebo will complement any backyard, with a variety of styles and sizes to choose from. This guide contains recommendations for the best gazebo for your outdoor space. Continue reading to learn more about the characteristics of a suitable gazebo and to investigate some of the best outdoor seating options.
Features to look for in the best gazebo
Gazebos are available in a variety of styles and sizes, and selecting the right one is dependent on its intended use. Those seeking a year-round setting should consider a permanent gazebo, whereas those seeking a shady spot for a dinner party may prefer a pop-up option. Consider the design, size, materials, strength, and installation process when selecting a gazebo.
Size and shape
Choose a pergola that will fit in the yard or patio without crowding or obstructing the open space. It is also critical to ensure that the gazebo is large enough for its intended use, whether it is for a couple of friends or a large dining area. Pop-up gazebos are typically smaller, whereas permanent structures are typically larger.
Arbors come in hexagonal, octagonal, round, square, and rectangular shapes and hardtop gazebo with netting and curtains. The ideal shape is determined by personal preference as well as the intended use. The classic gazebo shape is hexagonal, octagonal, or round, but square and rectangular models are more common for home installation kits.
Arbors range in size from about 6 feet across to 12 by 20 feet in length. Round and square gazebos are typically available in small to medium sizes and are ideal for covering a patio, seating area, or hot tub. Rectangular gazebos are available in a variety of sizes, making them ideal for covering a long outdoor dining table, for example.
Material and style
Gazebos come in a variety of styles and materials, allowing them to be used for a variety of purposes. To withstand the elements while looking great, certain materials are either naturally weather resistant or treated to be waterproof and fade resistant.
Wood and metal are popular framing materials because they are strong and long-lasting in outdoor conditions. The hard top of a gazebo is made of wood, metal, or polycarbonate shingles or panels. Awnings on soft top gazebos are made of weather and tear resistant materials like polyester or polyethylene, or acrylic materials like Sunbrella.
Hard top and soft top gazebos can be built permanently for year-round use. Some convertible gazebos have removable awnings that can be removed during the off-season.
Retractable arbours are designed for ease of use and typically include a flip top for easy transport and storage. They are made of foldable materials that are simple to assemble and disassemble for a day at the pool or dinner. Portable arbours are typically made of lighter materials such as metal frames and fabric awnings.
Additional coverage
Pergolas can have a variety of features that make them more user-friendly. Comfort and protection are provided by insect screens, curtains, and double roof structures.
Some gazebos include an insect screen. This mesh keeps mosquitoes, moths, and other insects out while not obstructing the view or the wind. Other models include extra hanging rods or hooks for netting or curtains.
Curtains can keep out elements such as rain, UV rays, and insects. They can also convert the gazebo into a private space. When the curtains are open, they can be tied to cover the posts, giving the gazebo a more luxurious appearance. To prevent damage, dampness, or mould, additional accessories such as curtains or netting may need to be removed during or after wet or windy weather.
The double roof design improves airflow while sacrificing protection. The roof of these gazebos has a small gap at the top for fresh air to enter. The second section of the roof overlaps the main roof, preventing rain and snow from falling into the gazebo.
Stability and construction
Stability is important for gazebo safety. Some gazebos are more durable than others for outdoor use. Pop-up designs are weaker. Pop-up gazebos are the least stable. Not ideal for windy conditions, but easy to use and assemble.
Hard-topped arbours are typically stronger. Metal roofs last longer than fabric ones. Hard top arbours don't sag in rain or snow.
Pergolas have many sturdy features. Vents let wind pass without rattling the roof or canopy. Built-in drains and sloped structures drain the gazebo. Most gazebos have spikes, bolts, or stakes for added stability.
Assembly type
Built-in, stationary, or retractable pergolas exist. Permanent installations take longer but last longer. Many DIY options include pre-cut and drilled parts for easy assembly. Many of these kits are designed for home installers, but they require two people to assemble. Hire a pro if needed.
Retractable arbours are easy to assemble and disassemble. They have a sliding metal frame and padded canopy straps. Carrying bags are available.
Before buying a gazebo
A gazebo installation starts with planning. Consider location and installation when choosing a gazebo. First, decide where it will go, which affects the size. Check for obstacles like bushes, branches, and other greenery. Level the ground and remove roots, rocks, and debris.
Installing a gazebo requires permits. Small structures don't need permits in most areas, but consult governing bodies or homeowners' associations.
Consider a construction floor or a gazebo with a floor. Consider how to fix a floor or pergola installed directly on the lawn. Bolts, screws, or strap systems work for concrete floors, foundations, or decks. Ground stakes work in grass or mud.
Consider these steps before purchasing a gazebo
Choose a place for a gazebo. Measure and clear the area to choose the right gazebo.
Many gazebos do not include a floor, so plan the layout if one must be added.
Safe installation depends on the floor and mounting options.
Check that you have all permissions to install your gazebo.