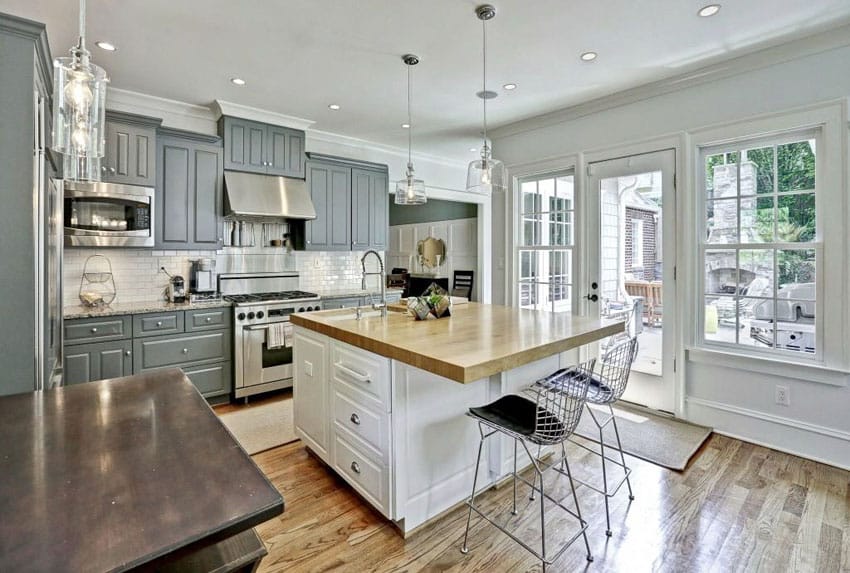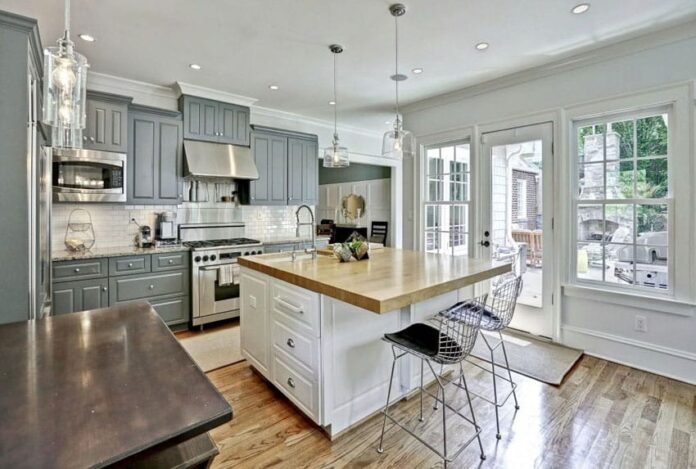 Grey and white shades have dominated the interior of kitchens, specifically the cabinetry, for ages. Ever wondered why? Read this article to find out why grey and white kitchen cabinets are a good kitchen renovation idea. 
The mixture of the subtle dullness of the color grey with the brightness of the color white is perfect for a warm kitchen setting. While the grey and white color scheme is a signature of the classics, it is a trending idea in kitchen renovation this 2022. In this article, we will explain why grey and white kitchen cabinets, are a good idea for your kitchen.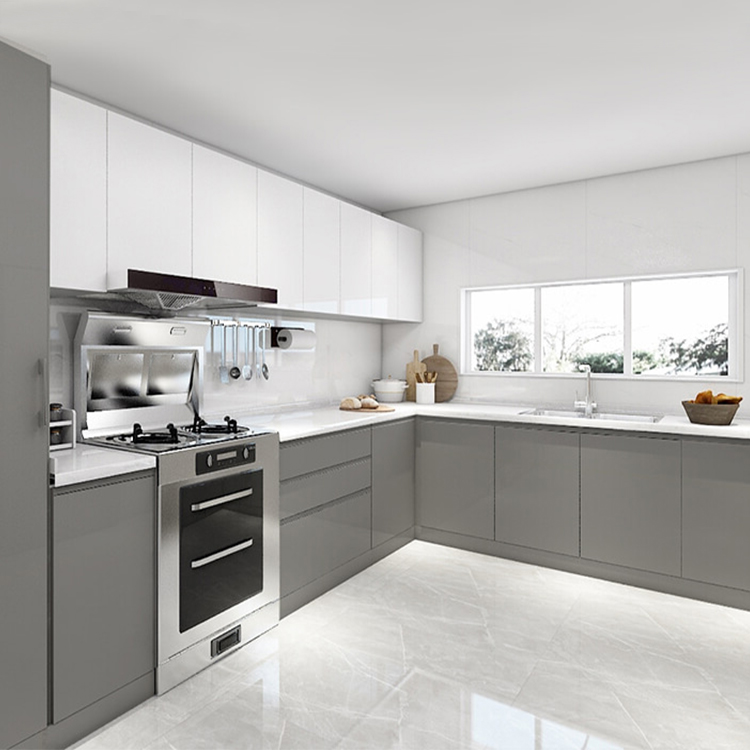 The Popularity of Grey and White Cabinetry
The grey-white shade has been around for centuries. That grey is dark while white is bright means that there is a balanced color contrast when grey and white are combined. The color scheme can be applied to any kitchen design and area; including walls, cabinetry, flooring, and ceiling. 
However, many homeowners prefer the combination of grey and white on the kitchen cabinetry. Below are their reasons. 
Versatility
The blend of grey and white is simple but versatile. You can pair the color scheme with many different colors without interfering with the visual properties of your kitchen interior. Grey and white kitchen cabinets have that neutral tone that interior designers leverage as a base color. You can install them in any kitchen design; from the country, vintage, to contemporary designs. 
Beauty
Homeowners want clean kitchens. The sharp blend of dark grey and cream white on kitchen cabinetry can let an air of cleanliness dominate the cookhouse. With grey and white kitchen cabinets, you don't have to worry too much about lighting. While white reflects light, grey absorbs light. The kitchen, therefore, becomes not only warmer but livelier. 
Varieties
As a darker color, grey comes in a myriad of shades, or varieties. This implies that the blend of grey and white provides homeowners with plenty of choices to choose from. From classic, lunar, and island to silver, there are different cool shades of grey that can align perfectly with white. 
On another note, white also comes in a number of varieties; from pearl, porcelain, and cream, to milky whites, there are different sub-sets of the color white. If you prefer grey and white cabinets, then you've got plenty of options to choose from. 
Classic Appeal
Classic-styled kitchen designs have never become old-fashioned, thanks, to their rustic appeal. The view of grey and white cabinetry with open shelving-surrounded by wooden furniture, granite accents, and rustic appliances-has a captivating farmhouse appeal that serves as a reminder of the classics. 
Can I Improve my Kitchen with Grey and White Cabinetry?
If you are planning to renovate your kitchen any time soon, you need to consider the colors grey and white. Regardless of the design that you will choose, the color contrast on grey and white kitchen cabinets will enhance the outlook of your kitchen if you do the following. 
Metallic fixtures like door, knobs, handles, and kitchen hardware are a highlight of kitchens with grey and white cabinetry. The gold, chrome, or stainless steel materials will with the lsland appeal of grey and white to create an atmosphere of luxury. 
You need to add color to your kitchen if you want to enhance it with grey and white cabinetry. Depending on your preferences, give the accents, ceiling, and floors, new looks to add contrast to your kitchen. Grey and white kitchen cabinets can only stand out where there is an effective color contrast. 
Consider the Kitchen Floors
There can be no visual interest in your grey-white cookhouse cabinets if you don't opt for the right floors. Because the colors grey and white are both neutral colors, need to be installed where the floors are bright or bolder. From patterned ceramic to wooden and marble tiles, kitchen flooring options are vast. The type of floor that you choose for your kitchen will be determined by;
Cost and available resources

Kitchen Design

Color of walls
Where can I find Grey and White Kitchen Cabinets for Sale? 
If you are planning to install grey and white cabinetry in your kitchen, you are lucky, for these drawers are very common. You can find them on e-commerce platforms or any furniture showroom or workshop near you. You may have to read online reviews to locate the best sites to shop at. If you intend to shop online, remember to;
Only deal with a reputable site

Ensure the safety of your information
Most importantly, you need to consider the following before making any purchase. 
Quality of Cabinetry
Quality is an important aspect to consider, any time you want to purchase kitchen cabinets. Because drawers are expensive, they need to last long. Hence, you should ensure you the cabinetry is made up of the most high-quality material. Going for good quality will save you from costly and frequent repairs and other inconveniences. 
Price
The cost of cookhouse cabinetry is more often determined by different factors, including design, color, and material quality. Moreover, different vendors and stores sell kitchen cabinets at different prices. You need to compare the prices of different vendors to find out where you can get the best from your money.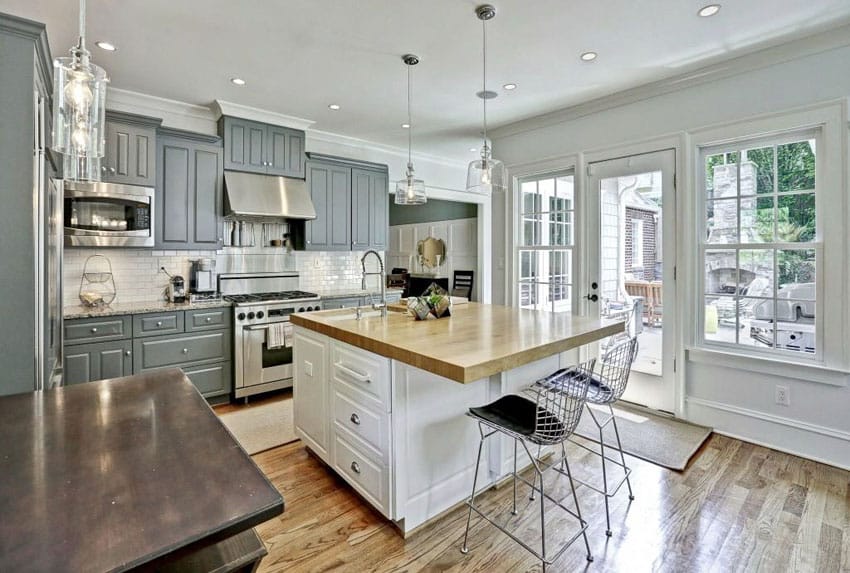 Kitchen Space
The design and size of cabinets that you chose for your kitchen must be based on the space in your kitchen. Knowing the available space in your kitchen area will help you know the size of cabinetry you should buy and install. You should opt for grey and white kitchen cabinets with open and closed shelves if the space in your kitchen is small or big, respectively. 
Final Thoughts
Grey and white kitchen cabinetry is a perfect kitchen renovation idea homeowners can take advantage of. Grey-white cabinets are not only versatile but can fit in all kitchen designs. Use the tips mentioned in this article to inspire your next kitchen makeover.