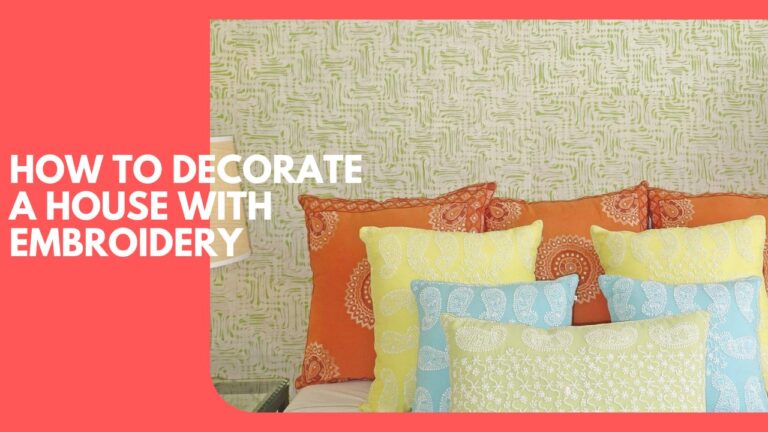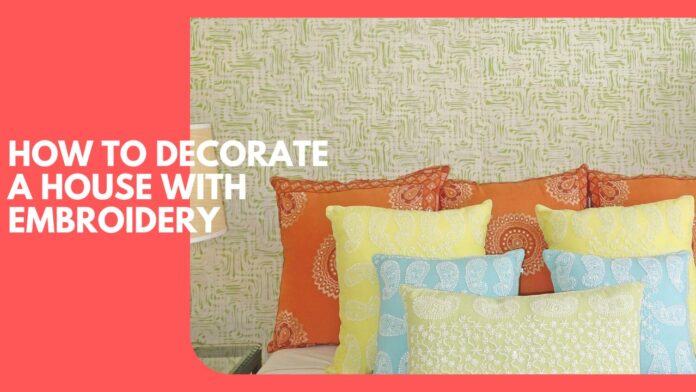 Through threads, beads, and crystals, cultures and traditions are expressed. They returned to fashion and interior design a few years ago, and it wasn't a fad. Embroidery, traditionally a grandmother's job, has returned and is now taught in schools to all ages.
No surprise. Because handcrafted elements add personality and character to our homes. Today's embroidered designs aren't based on the classics. Embroidery has innovated and reinvented itself like few other art forms in recent years. Embroidery is a common decoration in this style and can be combined in many ways to create a delicate and artistic environment.
If you like embroidery and want to know how to decorate with embroidery, you can use embroidery designs to decorate your home with Creative Fabrica.
Manual embroidery is stunning and making a comeback in decorative trends. There are numerous applications for embroidery. She is best known for adorning sheets, curtains, and towels with small designs, but she also decorates all of the house's accessories. Consider an embroidered fabric painting with the words "Welcome" if you want to personalise your interior.
A 100% embroidered decor would be more appropriate for a little girl's room. To decorate the bed, light-colored sheets are adorned with cute little patterns such as animals, houses, or flowers.
If you have the time, learn to embroider by taking lessons or by following each step in a special book. Otherwise, you can find finished and unique models of curtains and other decorative parts in the craft market. You can, however, order it from a professional embroiderer. Then you'll see a plethora of colours and patterns. A small painting of a seaside landscape with sailing boats and a lighthouse will complement your room's decor.
Embroidery plays an important role in the wedding ceremony as well. It looks great on chairs and tablecloths because it is noble and elegant. The wedding cushion is the accessory that requires the most embroidered designs. It is usually white and decorated with motifs such as a heart or a flower, as well as pearls and rhinestones. There are also red cushions embroidered with the bride and groom's names.
In addition to the cushions, the chaplains' are embellished with embroidered motifs accented with rhinestones, pearls, and lace. Embroidery can also be used to decorate the guest book, which is used to welcome the reactions of the guests as well as the announcement.
You can use embroidery to decorate in a variety of ways; just know how to incorporate it into the overall look of your home.
How Can Embroidery Be Used In Decoration?
IN RACKS ON THE WALL
The "classic" way to find embroidery in the decoration of a boho-style house is in the hoop, hanging on the wall. The hoops are typically used to stretch the fabric on which the embroidery will be done, and they can be removed once the work is finished. They can, however, be used as a "frame" for the design, so some stores that sell free embroidery products already have specific types of hoops to be used in decoration and to be hung on the wall. A wall with different sizes and colours of embroidery can create beautiful compositions for your home's walls.
ON A TABLE SUPPORT
This embroidery hoop can also be used to decorate a table, shelf, sideboard, or other location. You'll need a support suitable for the size of your piece for this, or you can leave it leaning against a surface. Combine other elements with similar styles in place to create a very interesting composition.
PENNANTS
Flags for your embroidery can also be made using string, branches or pieces of wood, or some other type of support. The important thing is that after the embroidery is finished, the sides are finished so that the fabric does not lose its durability.
TABLES
You can also use a wooden canvas frame to hang your embroidered fabric. As a result, you will have a very unique and incredible image to decorate an important space in your home.
CLOCK
What about a super useful and unique idea? You can embroider a clock design on the fabric in a hoop in your own style. When you're finished, simply attach the watch structure behind the hoop and the hands in front of the design, in the centre. A super creative and artistic watch is now available!
CUSHIONS
Embroider unique pillow covers that coordinate with other elements of your home decor. Other techniques, such as macramé, can also be combined to create harmonious compositions with personality.
ONLY USE THE HOOP
The hoop can also be used as a centrepiece in your home. Along with the embroidery on the wall, you can combine them with hoops containing other fabrics that match, such as lace or colourful prints.
What Can I Embroider?
You have the freedom to design whatever you want with free embroidery. It is critical that your home decor reflects your personality. So, keep your compositions in check, but don't get too attached to trends. Be you!
However, when it comes to trends that can inspire you, floral prints, as well as fun or motivating phrases, are very popular in the embroidery world. Geometric shapes are also popular in decorative embroidery, so they're worth a try.
And if you enjoy drawing, now is the time to put your creativity to work by creating illustrations that tell a little about yourself, or even finding models on the internet to help you make a very interesting embroidery.