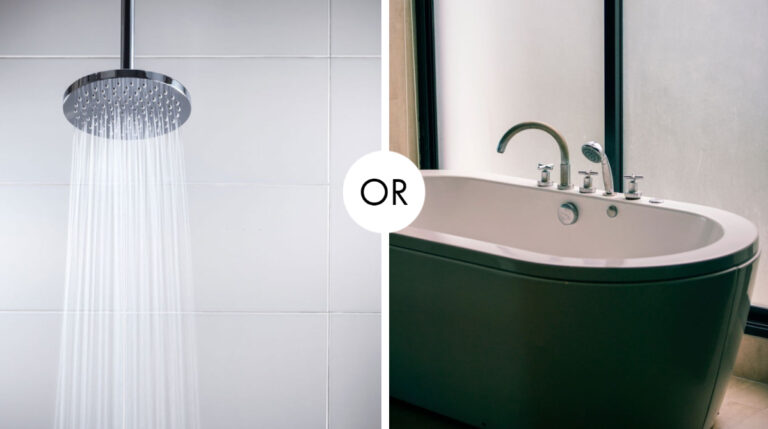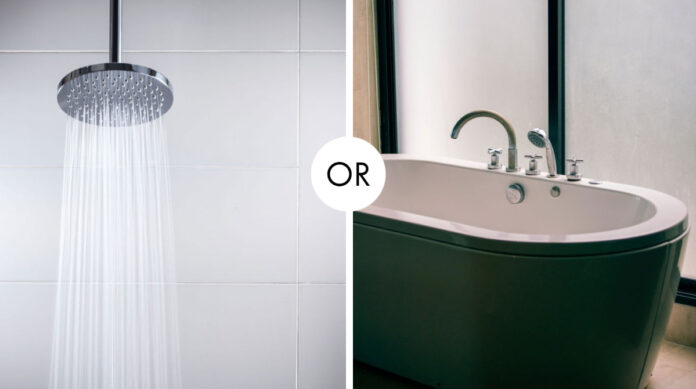 This choice is made when arranging an apartment by everything: to install a bath or a shower cabin? There are many things to think about. Finally, the composition, age, and rhythm of life of the family, the bathroom area, the attitude to cleaning, personal preferences, and temperament of the residents. Each choice has Advantages and Disadvantages.
Shower Overview
Showering is a necessary aspect of our daily lives. Some of us even shower twice or three times a day. However, most of us don't think about the type of shower we use until it's time to repair or rebuild it. There are two basic types of batteries: prefabricated varieties manufactured in a factory and installed in one piece and custom showers built on-site. There are significant price and quality disparities between the two.
| | |
| --- | --- |
| Pros | Cons |
| Practical – Most tub owners don't use their tubs very often. Showering is more convenient and time-saving daily. | Low water pressure in the pipes will significantly complicate the washing process; |
| Great for tight spaces – The shower-only technique is ideal for small bathrooms. Showers, on the whole, take up a lot less room than bathtubs. Even the most luxurious showers take up roughly the same amount of area as a standard bathtub. | It is more challenging to wash the shower – there are more technical elements and protrusions; |
| Eco-friendly – Showers consume less water and are therefore more environmentally friendly. Your energy bills will be reduced as well. | Showers are more expensive than baths; |
| | If you are exhausted, you will miss the opportunity to lie down and relax. |
How Much Does a Shower Cost?
Shower replacements can range in price from $1,500 to $10,000 and above. The cost is determined by the style of shower you purchase as well as the difficulty of installation.
Replace an existing shower with a prefabricated unit for $2,000 to $3,000.

Replacement of the shower, tiling the wall, and replacing the glass door typically costs $4,000 to $5,000.

Expansions, significant modifications, and any job that entails relocating the shower in the bathroom might cost anywhere from $5,000 to $10,000. If you want to add amenities like a shower seat, more showerheads, or a steam shower, keep this pricing range in mind.
Bathtub Overview
Few things are more calming than soaking in a hot bath. Bathing is a beautiful way to relax and unwind after a long day. Bathtubs come in many different styles, shapes, and sizes. To mention a few, there are regular tubs, antique-style clawfoot tubs, deeper soaking tubs, and whirlpool tubs.
| | |
| --- | --- |
| Pros | Cons |
| Relaxation – It's good to have the option of a long, relaxing bath when you're weary or anxious, even if you don't use the tub very often. | Takes up a lot of space; |
| Families will benefit more – Have you ever attempted showering with a tiny child? It's not an easy task. For families with young children, a bathtub is essential | You need more water to take a bath than to take a quick, short shower; |
| When it comes time to sell your property, having at least one bathtub in the house is a must. Families with minor children may not even consider your home if it lacks a bathtub. | The bath cover deteriorates over time – you need to update it or change it completely; |
| | It is difficult for the elderly and people with reduced mobility to get in and out of the bathtub. |
Bathtub Cost
Bathtub replacements can likewise range in price from $1,500 to $10,000 or more. Depending on size and quality, the tub itself could cost as little as $200 or as much as $3,000. Then there's the installation cost to consider.
Replace an existing bathtub with a prefabricated replacement for $2,000 to $3,000.

Replacement tubs and tiling often cost $4,000 to $5,000 on a custom basis.

If you're replacing the tub with a much larger one or transferring it to a different position in the bathroom, budget $5,000 to $10,000.
For safety
Safety should be paramount when equipping a bathroom, especially if a child or older adult is in the house. In this matter, the shower takes the lead:
There is no need to climb over the side.

The pallets are usually anti-slip.

It is possible to install a seat for the elderly, children, and people suffering from dizziness.
It's also essential to think about the material used to construct the bath or shower room. Experts recommend choosing tempered glass shower enclosures: they are more durable and more reliable than plastic. Such designs are installed even in hospital wards and perinatal centers. This means that even if the glass breaks, it will turn into small, safe chips and not injure anyone.
The most reliable version of the bath is considered to be a traditional cast-iron one. Despite its advantages in design and practicality, today's market leader in bathtubs, acrylic, has a high mechanical fragility and is sensitive to temperatures. The rapidly gaining popularity of quartz baths, which combine the aesthetics of acrylic and the strength of quartz, may well become a compromise option.
Some bathtubs have an anti-slip bottom surface but can also become a place for bacteria and dirt to accumulate.
For pleasure
The bathroom no longer serves solely as a location for performing hygiene tasks. This place is also associated with relieving stress after a working day or a source of vigor in the morning. Any romantic knows that there is nothing better than enjoying a bath with aromatic oils while flickering candles. In addition, the foam bath relaxes, soothes; it can be combined with cosmetic procedures.
But the shower can also give a charge of cheerfulness and no less pleasure for the soul and body. Modern shower systems allow you to choose a model depending on your mood: from tiny drops to a tropical shower, contrast shower, hydromassage, "Turkish bath," aromatherapy. For example, the Italian sanitary ware manufacturer IB Rubinetterie realizes the dream of SPA in its shower with the Aquabeat shower system with waterfall, misty jets, and color therapy modes.
For good health
No matter how valuable and pleasant the adoption of water procedures is, there are always limitations. So, a shower can have an extremely positive effect on health if you do not forget about a sense of proportion. Experts do not recommend batteries with gels, scrubs, and shampoos too often: this can destroy the skin's protective balance.
As for the hot bath, doctors advise against taking it for more than 15 minutes: hot water increases the load on the heart and blood vessels. Dermatologists also have not very good news for lovers of long-term water procedures. American Academy of Dermatology spokeswoman Lauren Ploch says that while bath and shower are equally suitable for hygiene, the battery is preferable to keep skin youthful. It turns out that prolonged exposure to a hot bath can lead to dry skin. But we must pay tribute: in combination with herbs, salt, oils, the bath can turn into a natural healing procedure!
For cleaning
In this sense, the bath is usually more practical: a smooth surface is easier to wipe, and the choice of care products is more decadent. The shower room will delight its owners less. It is more challenging to care for since the walls are covered with plaque, periodically removed uniquely. An exception is a shower in a niche, the walls of which are usually tiled.
But progress does not stand still, and some manufacturers treat the walls of the fences with special coatings that make life easier for homemakers. For example, the manufacturer of shower enclosures, GuteWetter, has developed GuteClean, a protective barrier for glass against limescale and dirt, which greatly facilitates the cleaning process. As a result, glass is easy to clean and retains its original appearance longer. Another valuable function of modern shower systems is the auto-cleaning button of the showerhead from limescale installed on the showerhead or bar.